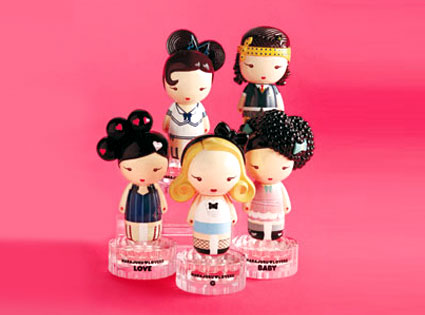 What amazing product design! Is it possible not to be able to decide which of the fragrances to choose simply based upon packaging and then throw in 5 choices with limited edition winter snow bunny packaging?
1. Love 2. Lil Angel 3. G 4. Music 5. Baby
Snow Bunny Collection

Nevertheless, have a look at the
Harajuku Lovers
website for flying fruits,
Gwen Stefani
voice overs, anime, video games and general "fatal attraction to cuteness!"
What are you waiting for? Plus, the sample for Harajuku Lovers is a sealed fold card with separate "lift and sniff" samples of all 5 fragrances. A marketing pocket burner.